E-learning tananyagok hatékonyságának vizsgálata: A tanulók kognitív sajátosságainak és az online környezet oktatás-módszertanának az összefüggései
Kulcsszavak:
digitális tananyag; online kurzusfelület; tanulási hatékonyság; tanulói sajátosságok
Absztrakt
A pandémia alatti és utáni oktatási helyzetben az online környezetben történő tanulás hatékonyságának és eredményességének a növelésére az elvárásokkal arányosan fokozottabb figyelem irányult. A tanulási környezetek funkcionalitásának technikai továbbfejlesztése helyett a tanuló sajátosságaihoz igazított, részben adaptív kurzusfelületek fejlesztésével kapcsolatban mai napig nagyon kevés kísérleti jellegű kutatási eredmény áll rendelkezésünkre. A tanulók kognitív és affektív sajátosságai (motiváció, fáradtság, munkaterhelés, rekacióidő, fizikai állapot, mentális állapot) és a tanulási környezetben tapasztalt tanulási tevékenységük (képernyőre fókuszálás, szemmozgások elemzése, tanulási aktivitás) és teljesítményük összefüggésrendszerének jobb megismerésével hatékonyabb és a célcsoporthoz jobban igazodó kurzusfelületek fejleszthetők. A kognitív tesztekre, szemmozgáskövetésre, tevékenységelemzésre, megfigyelésre, illetve interjúra épített adatgyűjtéssel végzett kismintás kutatásunk alapján egyértelmű tendenciákra következtethettünk. A tanulócsoportok közötti különbségek mellett a rövid videófilmek, az oktatói hitelesség biztosítása, rövidebb írásos dokumentumok, illetve nagyobb számú gyakorló teljesítménytesztek a preferáltabb részei a hatékony online tanulási környezeteknek.
Hivatkozások
ACKERMAN, P. L. (2011). Cognitive fatigue: Multidisciplinary perspectives on current research and future applications. American Psychological Association.
ACKERMAN, P. L. – KANFER, R. (2009). Test length and cognitive fatigue: an empirical examination of effects on performance and test-taker reactions. Journal of Experimental Psychology: Applied, 15(2), 163.
ADEDOYIN, O. B. – SOYKAN, E. (2020). Covid-19 pandemic and online learning: the challenges and opportunities. Interactive Learning Environments, 1–13.
AIXIA, D. – WANG, D. (2011). Factors influencing learner attitudes toward e-learning and development of e-learning environment based on the integrated e-learning platform. International Journal of E-Education, e-Business, e-Management and e-Learning, 1(3), 264.
ALHOMOD, S. – SHAFI, M. M. (2013). Success factors of e-learning projects: A technical perspective. Turkish Online Journal of Educational Technology-TOJET, 12(2), 247–253.
ALQAHTANI, A. Y. – RAJKHAN, A. A. (2020). E-learning critical success factors during the covid-19 pandemic: A comprehensive analysis of e-learning managerial perspectives. Education Sciences, 10(9), 216.
ANDRÁS, M. (2021). A figyelmi feladatok által okozott akut mentális fáradtság pszichofizikai és autonóm idegrendszeri jellemzői. Pécsi Tudományegyetem.
ARGHODE, V. – BRIEGER, E. – WANG, J. (2018). Engaging instructional design and instructor role in online learning environment. European Journal of Training and Development, 42(7/8), 366–380.
BAFNA, T. – HANSEN, J. P. (2021). Mental fatigue measurement using eye metrics: A systematic literature review. Psychophysiology, 58(6), e13828.
BENSCOTER, B. – KING, M. – ROTHWELL, W. J. - KING, S. B. (2015). Mastering the Instructional Design Process: A Systematic Approach. John Wiley - Sons.
BOKSEM, M. A. S. – MEIJMAN, T. F. - LORIST, M. M. (2006). Mental fatigue, motivation and action monitoring. Biological Psychology, 72(2), 123–132.
BOKSEM, M. A. S. – TOPS, M. (2008). Mental fatigue: costs and benefits. Brain Research Reviews, 59(1), 125–139.
BORRAGÁN, G. – SLAMA, H. – BARTOLOMEI, M. – PEIGNEUX, P. (2017). Cognitive fatigue: A timebased resource-sharing account. Cortex, 89, 71–84.
CARRIL, M. – PABLO, C. – GONZÁLEZ, S. – MERCEDES, H. – SELLÉS, N. (2013). Pedagogical roles and competencies of university teachers practicing in the e-learning environment. International Review of Research in Open and Distributed Learning, 14(3), 462–487.
CENNAMO, K. – KALK, D. (2019). Real world instructional design: An iterative approach to designing learning experiences. Routledge.
DELUCA, J. E. (2005). Fatigue as a Window to the Brain. MIT press.
FEBIYANI, A. – FEBRIANI, A., – MA'SUM, J. (2021). Calculation of mental load from e-learning student with NASA TLX and SOFI method. Jurnal Sistem Dan Manajemen Industri, 5(1), 35–42.
HART, S. G. (2006). NASA-task load index (NASA-TLX); 20 years later. Proceedings of the Human Factors and Ergonomics Society, 904 908. https://doi.org/10.1177/154193120605000909
HENG, K. – SOL, K. (2021). Online learning during COVID-19: Key challenges and suggestions to enhance effectiveness. Cambodian Journal of Educational Research, 1(1), 3–16.
HOCKEY, G. R. J. (2011). A motivational control theory of cognitive fatigue.
HOLGADO, D. – TROYA, E. – PERALES, J. C. – VADILLO,M. A., – SANABRIA, D. (2021). Doesmental fatigue impair physical performance? A replication study. European Journal of Sport Science, 21(5), 762–770.
HOLMQVIST, K. – NYSTRÖM, M. – ANDERSSON, R. – DEWHURST, R. – JARODZKA, H. – VAN DE
WEIJER, J. (2011). Eye Tracking: A Comprehensive Guide To Methods And Measures. Oxford University Press.
HOPSTAKEN, J. F. – VAN DER LINDEN, D. – BAKKER, A. B. – KOMPIER, M. A. J. (2015). The window of my eyes: Task disengagement and mental fatigue covary with pupil dynamics. In Biological Psychology (Vol. 110, pp. 100–106). Elsevier Science. https://doi.org/10.1016/j.biopsycho.2015.06.013
KIRSCHNER, P. A. – HENDRICK, C. (2020). How learning happens: Seminal works in educational psychology and what they mean in practice. Routledge.
KLEIN, S. (2018). Fáradtság (és más hasonló jelenségek). In S. Klein (Ed.), Munkapszichológia a 21. században (pp. 581–655). Edge 2000.
LOU, J. S. (2009). Physical and mental fatigue in Parkinson's disease. Drugs - Aging, 26(3), 195–208.
MACKH, B. M. (2021). Pivoting Your Instruction: A Guide to Comprehensive Instructional Design for Faculty. Routledge.
MAFFEI, A. – ANGRILLI, A. (2018). Spontaneous eye blink rate: An index of dopaminergic component of sustained attention and fatigue. International Journal of Psychophysiology, 123, 58–63.
MARTINS, R. – CARVALHO, J. M. (2015). Eye blinking as an indicator of fatigue and mental load—a systematic review. Occupational Safety and Hygiene III, 10, 231–235.
MASOUMI, D. (2006). Critical factors for effective eLearning. Retrieved November, 12, 2011.
MATUZ, A. – VAN DER LINDEN, D. – TOPA, K. – CSATHÓ, Á. (2019). Cross-modal conflict increases with time-on-task in a temporal discrimination task. Frontiers in Psychology, 10, 2429.
MEGYERI, M. – SZABÓ, B. (2021). Investigating the Effectiveness of User Onboarding Solutions With Eye Tracking: A Case Study on Paint 3D. Ergonomics in Design, 10648046211026028.
MEGYESI-MOLNÁR, É. (2018). A végrehajtó funkciók és a munkamemória összefüggései az iskolai teljesítménnyel. szte.
MOHAI, K., – SZABÓ, C. (2014). A munkamemória vizsgálata. Gyógypedagógiai Szemle, 42(3), 226–232.
MORRISON, G. R. – ROSS, S. J. – MORRISON, J. R., – KALMAN, H. K. (2019). Designing effective instruction. John Wiley - Sons.
NILSON, L. B. – GOODSON, L. A. (2021). Online teaching at its best: Merging instructional design with teaching and learning research. John Wiley - Sons.
OLLÉ, J. (2018). Oktatástervezés: a tevékenységközpontú digitális tananyag strukturális és módszertani sajátosságai. Ollé János – Mika János (Szerk.) Iskolakultúra és környezetpedagógia. Budapest, Eötvös Egyetemi Kiadó 59–68.
OLLÉ, J. - HÜLBER, L. – SABLIK, H. – KOCSIS, Á. (2016). Development of a New Activity-Based Instructional Design Model. EDEN Conference Proceedings, 1, 63–69.
SHEN, J. – BARBERA, J. – SHAPIRO, C. M. (2006). Distinguishing sleepiness and fatigue: focus on definition and measurement. Sleep Medicine Reviews, 10(1), 63–76.
SIMOR, P. – KÖTELES, F. BÓDIZS, R. – BÁRDOS, G. (2009). A questionnaire based study of subjective sleep quality: the psychometric evaluation of the Hungarian version of the Groningen Sleep Quality Scale. Mentálhigiéné és Pszichoszomatika, 10(3), 249–261.
SUHÁNSZKI, N. – HAIDEGGER, T. (2014). Objektív sebészet–robotok és szimulátorok használata a sebészeti képességek felmérésére. Magyar Sebészet, 67(6), 340–352.
SZABÓ, B. (2020). A szemmozgáskövetés története és felhasználási lehetőségeinek bemutatása az ekereskedelemben (The story of eye tracking and its possible applications in e-commerce). Információs Társadalom, 20(1), 127–151.
SZABÓ, B. – SZEDERKÉNYI, B. (2020). Reklámok figyelemre gyakorolt hatásának szemmozgáskövetéses vizsgálata. Jel-Kép, 41(1), 71–84. https://doi.org/10.20520/JEL-KEP.2020.1.
TÁNCZOS, T. – JANACSEK, K. – NÉMETH, D. (2014). A verbális fluencia-tesztek II. A szemantikus fluencia-teszt magyar nyelvű vizsgálata 5-től 89 éves korig. Psychiatria Hungarica, 29(2), 181–207.
VAN DER LINDEN, D. (2011). The urge to stop: The cognitive and biological nature of acute mental fatigue.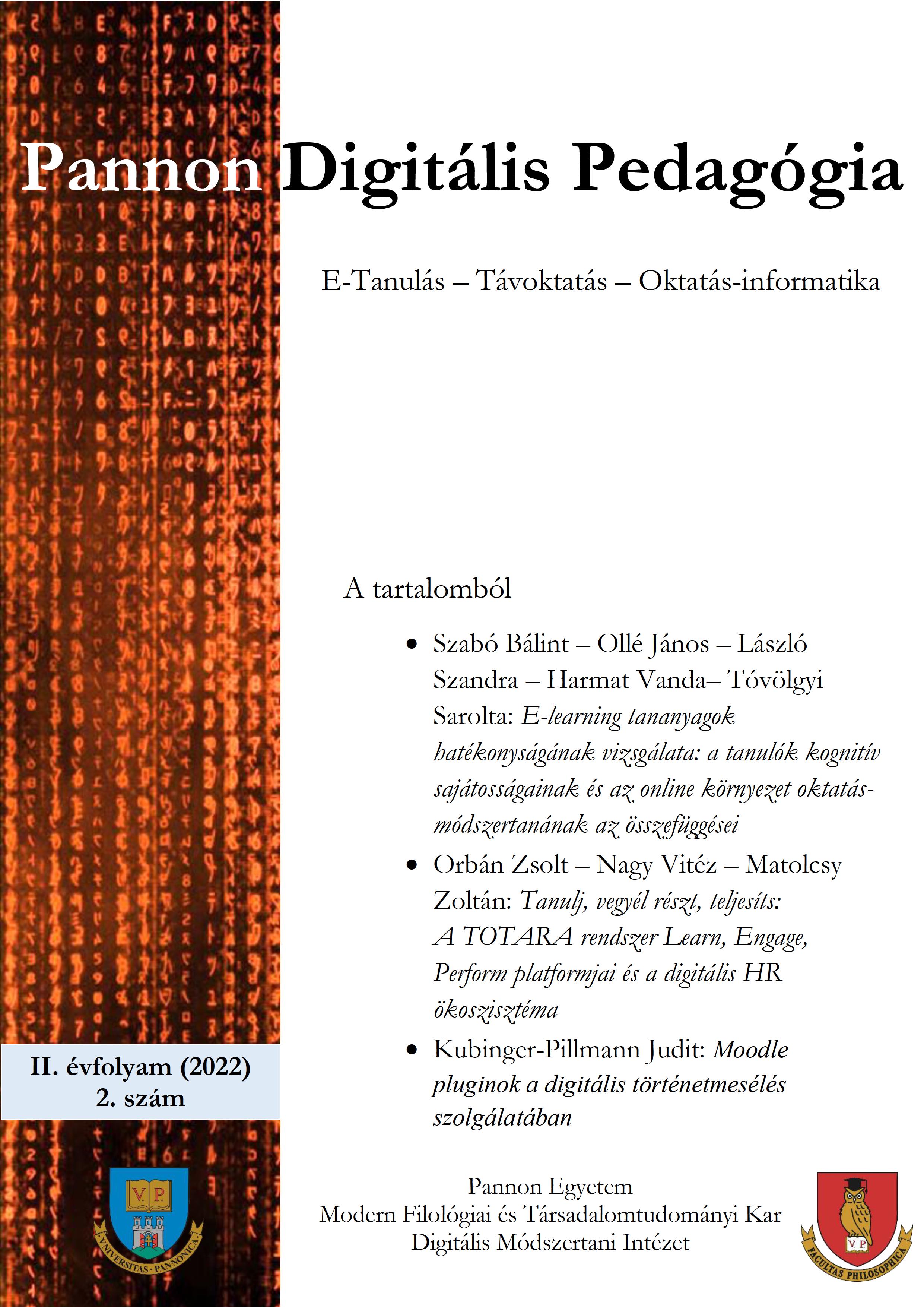 ##submission.downloads##
Megjelent
2022-12-24 — Frissítve ekkor: 2023-01-16